Viconic's Impact Absorbing Technology Now Used in Lacrosse, Hockey, and Equestrian Sports
August 3rd, 2022
Viconic Sporting's proprietary impact absorbing technology is now used by Warrior, Charles Owen, and Sherwood for maximum head and body protection. Warriors high end BURN Lacrosse helmet, ALPHA ONE Hockey helmet, The Charles Owen Sovereign Polo helmet and Sherwood Hockey's shin, hip, shoulder, and elbow pads all utilize the technology to best protect today's athletes, The same technology is also significantly utilized in automotive and defense applications to protect occupants of vehicles.
Additional information about Viconic Sporting can be found at www.viconicdefense.com
Sherwood Hockey Launches New Protective Equipment Line with Viconic VIP Technology
January 28th, 2021
Sherwood Hockey has launched a new hockey equipment line with Viconic's impact protection technology. The new equipment line will be branded VIP (Viconic Impact Protection) and will be integrated into Sherwood hockey gloves, shin pads, hip pads, shoulder pads and elbow pads. This new hockey equipment line will deliver superior impact protection relative to traditional foam based products to better protect today's hockey athletes.
Viconic's Partners with Charles Owen with New Impact Absorbing Technology
July 30th, 2020
Viconic's impact absorbing technology has now been integrated into to Charles Owen's new Sovereign POLO Helmet. The Sovereign polo helmet combines both safety and protection with traditional polo helmet styling. Viconic's proprietary technology helps Sovereign meet the new NOCSAE POLO safety standards with a significant improvement in impact protection. The impact liner is engineered to absorb energy from both high and low velocity impacts and multiple impact scenarios commonly seen on the polo field.
How Detroit-Area Engineers Are Using Automotive Expertise to Tackle Concussions From The Turf Up
March 23rd, 2017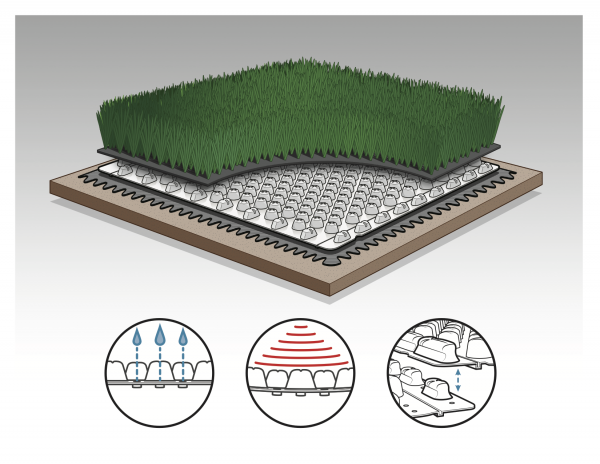 Detroit has long been known as "The Automotive Capital of the World," but now some Motor City engineers are using their auto-industry tech to make sports fields safer. The engineers at Viconic Sporting, a privately-owned company based in the Metro Detroit city of Dearborn, have created a new energy-absorbing shock pad that can be installed under artificial turf fields and will be commercially available this summer.
This underlayment system, which was adapted from their parent company's automobile impact-protection technology, can reduce the risk of injury when an athlete hits the turf.
Although many companies offer shock pads for synthetic turf, Viconic's pad is unique because it features an array of thermoplastic cones that collapse when a player hits the ground. These cones absorb a lot of the force from the impact, which decreases the amount of force that the player's body experiences.
"Our technology is engineered to start to really buckle and collapse at what we feel is starting to be an injurious load level," said Joel Cormier, Viconic's Director of Development Engineering. "Then it recovers quickly for the next impact."
So low-energy impacts — like running on the turf — will barely engage the energy-absorber or not engage it at all. On the other hand, high-energy impacts — like getting slammed to the ground — will cause the shock pad to crumple. This means the field will remain firm for normal gameplay, but it will become "softer" upon impact when a player falls forcefully.
Cormier believes shock pads are necessary for synthetic turf systems because the turf is usually laid over crushed stone or gravel, which isn't always good for shock absorption. While modern turf carpets are built with energy-absorbing infill systems — usually consisting of a mixture of rubber and sand — these infills are often insufficient and will migrate over time.
Infill migration is most often seen on fields that experience heavy use. When athletes run on a synthetic turf surface, they track some of the infill with them. This causes the infill to thin out in high-traffic areas of the field, leaving almost no shock-absorbing material between the player and the stone base. That creates some obvious safety issues, but the presence of a pad can mitigate those concerns.
"When the energy-absorbing infill systems migrate from specific areas of the turf, you see increases in the G-levels that would be transferred to the body," Cormier said. "So that's one of the benefits of our technology…Regardless of what happens with the surface, you've got a high-efficiency energy-absorbing layer that's always there."
For the full article on Sport Techie please click here: http://www.sporttechie.com/2017/03/23/sports/nfl/detroit-area-engineers-use-automotive-expertise-to-improve-shock-absorption-of-artificial-turf/
Seeking to Make Artifical Turf Safer
December 12th, 2016
https://www.playsmartplaysafe.com/newsroom/videos/rethinking-turf-ground/
For decades, engineers in Detroit have improved auto design to reduce the impact of crashes.
That expertise is now being applied in an effort to improve synthetic turf systems on sports fields. Viconic is the company that's leading the project to develop an impact-absorbing layer under synthetic turf. This layer of bubble-like plastic knots crushes efficiently during impact, then quickly returns to its original shape to absorb the next impact.
"The shock pad goes underneath the artificial turf and provides an additional layer of energy absorbing capability," said Joel Cormier, Viconic's Director of Development Engineering.
"The goal is reduce the forces that your body experiences from impact with the playing surface," he said.
This Viconic project was one of three final winners in the Head Health Challenge II, sponsored by GE, Under Armour and the NFL.
"If we can reduce injury in automotive, hopefully we can do the same thing for synthetic turf," Cormier said. "We see potential for the product to be used everywhere from youth soccer to the NFL."
Testing Natural and Synthetic Field Grass
At the Center for Safe Athletic Fields at the University of Tennessee Knoxville, researchers are seeking to create safer fields, too.
Using 60 mini-fields with different mixes of natural and synthetic grass, and applying other variables such as field surface conditions, infills, underlayments, climate conditions and shoes, researchers at UT assess both performance and safety. It is here that Viconic is implementing its new system under the synthetic fields to help evaluate its impact on improving safety.
Tennessee offers an ideal location for this kind of research. John Sorochan, PhD, who's a professor at the UT Center said, "We're in the transition zone. We can grow all grasses here. Whether it be cool season grasses, or Bermuda Grass. It's a nice geographic location for us to do this type of work."
Sorochan said researchers at UT grow and test many of the grasses used in NFL stadiums and practice fields.
"Our goal is to conduct tests to try to keep athletes safe in various field conditions," he said. "Player impacts happen in different ways. There's impacts from falling, heads hitting the ground—we want to minimize the severity of the impact but not take energy away from them as they're running down field."
Guidelines for NFL Fields
Elsewhere, engineers, physicians, turf scientists and infill surface manufacturers are also collaborating on "Game Day Surface Guidelines" for all NFL fields.
The NFL's Musculoskeletal Committee oversees and analyzes biomechanical research and injury data and shares this information with shoemakers and artificial turf manufacturers.
With the committee's recommendations, turf manufacturers have taken steps to standardize the characteristics of turf—such as surface hardness and the depth of sand below the turf—in order to try to decrease injuries.
In 2016, the NFL and NFLPA established the Field Surface & Performance Committee, a joint committee to provide advice and guidance regarding the safety, performance and testing of game day and practice surfaces. This new joint committee will perform research and advise the parties on injury prevention, improved testing methods and the adoption of tools and techniques to evaluate and improve field surface performance and playability.
New technology aims to curb concussions in NFL
October 12th, 2016
Are parents adding to concussion problems?
By Rod Meloni – Reporter, CFP ® , Frank McGeorge – Reporter
DETROIT – Concussion concerns continue to dampen the dreams of hopeful football players in America.
But now, the NFL is working on new ways to prevent future problems. Local 4 business editor Rod Meloni found out the league is turning to a Metro Detroit business for help.
Joel Cormier, of Viconic Sporting of Dearborn, is working on the Healthy Head project, tackling the delicate balance of making a football field safer when it comes to concussions without causing other injuries to increase.
"There is opportunity to reduce injury from a head injury impact standpoint, but you wouldn't want a system so soft it can lead to other types of injury,' Cormier said.
A chemical engineer, Cormier's first work in the area sites where everyone can see it — in the headliner of a car or truck. It's translating to a black egg crate type material that would go under field turf.
You can learn more about the new technology and how it could impact concussions in the video above.
Are parents adding to the concussion problems for children? Dr. Frank McGeorge examined the possibility in the video below.
Viconic Announced as Final Winner in Head Health Challenge II
December 3rd, 2015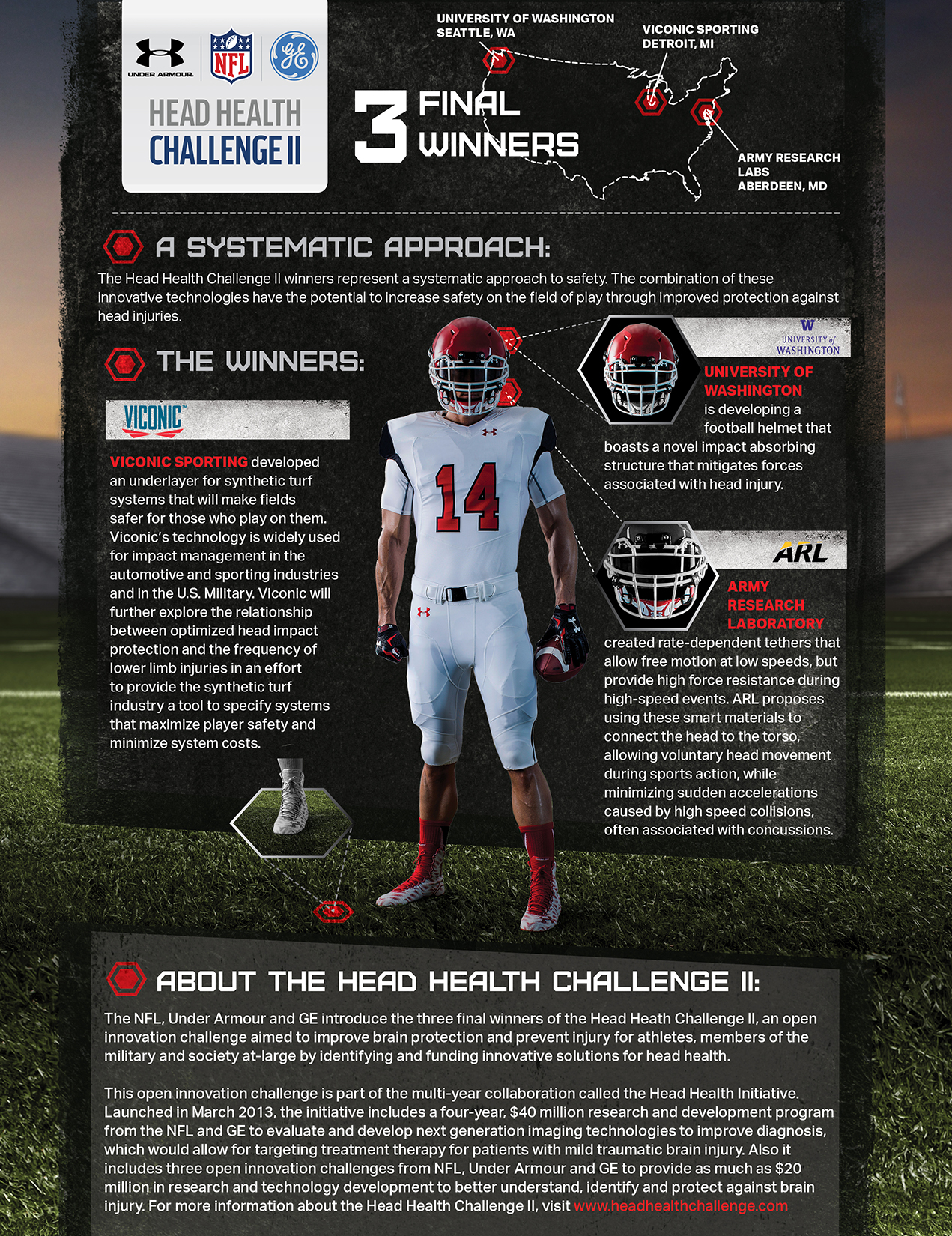 Under Armour, the NFL and GE have announced three Final Winners of Head Health Challenge II. Each award winner has received additional funding to advance their work to better protect against brain injury.
Viconic Sporting developed an underlayer for synthetic turf systems that will make fields safer for those who play on them. Viconic's technology is widely used for impact management in the automotive and sporting industries and in the U.S. Military. Viconic will further explore the relationship between optimized head impact protection and the frequency of lower limb injuries in an effort to provide the synthetic turf industry a tool to specify systems that maximize player safety and minimize safety costs.
Viconic Underlayment Product Featured on ABC's This Week with George Stephanopoulos
September 17th, 2015
In the televised segment "The NFL's New Plan to Tackle Head Injuries," Martha Raddatz interviews the NFL's first ever health and medical advisor, Dr. Elizabeth Nabel. The league's newly appointed top doc discusses the current safety concerns of players and the future of the sport. Along with rule changes, Dr. Nabel mentions equipment modifications necessary to absorb the shock of contact better. Viconic's underlayment system is proven to reduce the risk of mild traumatic brain injury and concussion.
To see the video featuring Viconic's underlayment: http://abcnews.go.com/ThisWeek/video/nfls-plan-tackle-head-injuries-33726276
Viconic Sporting Presents Turf Underlayment Technology on Capitol Hill
June 6th, 2015
Viconic Sporting recently presented its turf underlayment technology at the U.S. Capitol with the National Football League. The briefing, "Gizmos, Gadgets, and America's Game: How Technology is Advancing Health and Safety in the NFL" was led by the NFL to update Congress and sponsored by the Congressional Brain Injury Task Force and lead by Congressman Bill Pascrell (Democrat, NJ) and Congressman Thomas J. Rooney (Republican, FL). In addition, Viconic also recently received an additional grant as part of the Head Health Challenge II Initiative sponsored by the the NFL, Under Armour (NYSE:UA) and GE (NYSE: GE). Viconic is developing a next generation underlayment technology made from a highly recoverable thermoplastic that fully recovers to its original shape after impact. The patented technology has shown that it absorbs significantly more impact energy than traditional foam materials. Viconic Sporting Presents Turf Underlayment Technology on Capitol Hill.
In addition to sporting applications Viconic has also developed its energy absorbing technology for the U.S. military and has been selected by the U.S. Army for certain vehicle applications aimed to better protect today's warfighter. The military applications include blast mats, overhead protection and energy absorbing seating solutions that can be customized for each specific vehicle. Please see the link below for more information on our defense products and survivability solutions.
http://www.viconicdefense.com/
SAE Automotive Engineering focuses on Viconic Sporting Technologies
In March, SAE Automotive Engineering published an article featuring Viconic Sporting and our recent innovations with thermoplastic technology. The report highlights our energy absorption solutions being used to protect athletes from severe impact injuries. To read the article online visit http://articles.sae.org/13988/
Viconic Sporting Completes Renovation of Global Headquarters in Michigan
March 5th, 2015
Viconic Sporting announced today that it has completed renovations to its global headquarters. "We are extremely proud of the recently completed renovations at our global headquarters," said Dick Audi, President and CEO of Viconic Sporting. "The new offices provide our team of engineers, sales professionals and executives a first class environment to collaborate and continue the innovation surrounding our patented energy absorbing safety technology. The state-of-the-art interior design provides an open environment that promotes greater interaction and creativity."
Viconic Sporting Receives Grant to Develop Technology that Protects Athletes from Head Impact Injuries
November 13th, 2014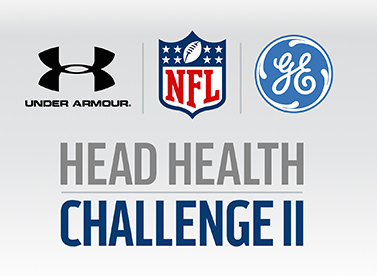 Dearborn, MI, November 13th, 2014 – Viconic Sporting today announced it has been selected as one of the winners in the NFL, Under Armour (NYSE:UA) and GE (NYSE: GE) sponsored Head Health Challenge II Initiative.
Launched in September 2013, the challenge is an open innovation awarding up to $10 million for new innovations and materials that can protect the brain from traumatic injury and for new tools used to track head impacts in real time. The challenge is part of the Head Health Initiative, a collaboration to help speed diagnosis and improve treatment for mild traumatic brain injury. Viconic submitted its proposal under the "Protection Against Injury or its Consequences" category aimed at developing a resilient turf underlayment system for enhanced head impact protection.
"We are very excited our proposal was selected amongst nearly 500 submissions and are looking forward to further developing our turf underlayment technology to better protect today's athletes on the field," said JB Audi, Viconic Sporting Vice President.
Viconic's underlayment research will consider various performance and construction aspects of the synthetic turf systems using protocols established by the NFL, FIFA, IRB, STC, ESTO, and ASTM. Our goal is to minimize the frequency of player to surface concussions in all sports at all levels. Our research will consider the size and aptitude of the average athlete participating on each surface. Our intention is to develop a guide for selecting components to create a fast, playable, safer synthetic turf system that minimizes the risk of mild traumatic brain injury (MTBI) and concussion. Leading research institutions and independent test labs will also be utilized to validate our research. Cooperation with research institutions will also be critical to developing an innovative head impact research device to study the complex rotational aspects of head to ground concussions.
Viconic's technology is licensed from an automotive energy management company and is currently the most widely used impact management solution for automotive head impact applications around the world. In addition to automotive and sporting applications, the technology is also currently being fielded by the U.S. military for blast-mitigating survivability solutions aimed at better protecting today's warfighter.
https://www.youtube.com/watch?v=8nOx_28nIDY
The Challenge II judges were:
Kenneth M. Ford, PhD: Founder and CEO, Institute for Human and Machine Cognition (IHMC)
Gerard Gioia, PhD: Division Chief of Neuropsychology at Children's National Medical Center
Kevin M. Guskiewicz, PhD, ATC: Kenan Distinguished Professor, Co-Director of the Matthew Gfeller Sport-Related Traumatic Brain Injury Research and Director of the Center for the Study of Retired Athletes in the Department of Exercise and Sport Science at The University of North Carolina Chapel Hill
Colonel Dallas Hack, MD: Director of the Combat Casualty Research Program and the Chair, Joint Program Committee 6 (Combat Casualty Care), U.S. Army Medical Research and Materiel Command, Ft. Detrick, MD
Stuart Hoffman, PhD: Scientific Program Manager for the Brain Injury Portfolio, U.S. Department of Veteran Affairs
David Hovda, PhD: Professor and Vice Chairman of Research Affairs for the Department of Neurosurgery and Director of the Brain Injury Research Center, University of California, Los Angeles
David Meaney, PhD: Associate Director at Penn Center for Brain Injury and Repair and a Solomon R. Pollack Professor and Chair, Penn Engineering, Department of Bioengineering
Joseph F. Waeckerle, MD FACEP: Clinical Professor of Emergency Medicine, University of Missouri-Kansas City School of Medicine
About Viconic Sporting
Viconic Sporting is a leader in developing and engineering energy management solutions that provide the most effective protection from impact-related sports injuries. Viconic Sporting develops innovative solutions and utilizes the leading proprietary technology for automotive head impact protection. Visit www.viconicsporting.com for more information.
About The National Football League
Throughout its history, the NFL has made the health and safety of its players a priority. This commitment extends to football played at all ages, as well as other sports. At the youth level, the NFL's partnership with the Centers for Disease Control and Prevention and the League's support for USA Football, including prominently their Heads Up Football initiative, helps parents, coaches, clinicians and athletes understand the signs and symptoms of possible head injuries. The league successfully advocated for the passage of youth concussion laws in all 50 states. Through funding for medical studies, including a $30 million grant to the National Institutes of Health for medical research; collaboration with the military on research and recognizing and reporting potential head injuries; and the work of the NFL's medical committees, the NFL is committed to supporting and advancing science that will have an impact far beyond football. With a continued emphasis on improved equipment, rules changes, and in-game policies, the NFL fosters a culture that promotes health and safety at every level of the game.

About Under Armour, Inc.
Under Armour® (NYSE: UA) is a leading developer, marketer, and distributor of branded performance apparel, footwear, and accessories. The Company's products are sold worldwide and worn by athletes at all levels, from youth to professional, on playing fields around the globe. The Under Armour global headquarters is in Baltimore, Maryland. For further information, please visit the Company's website at www.ua.com.
About GE
GE (NYSE: GE) works on things that matter. The best people and the best technologies taking on the toughest challenges. Finding solutions in energy, health and home, transportation and finance. Building, powering, moving and curing the world. Not just imagining. Doing. GE works. For more information, visit the company's website at www.ge.com.
About the Head Health Initiative
The open innovation challenge is part of the multi-year collaboration among Under Armour, GE and the NFL called the Head Health Initiative. Launched in March 2013, the initiative includes a four-year, $40 million research and development program from the NFL and GE to evaluate and develop next generation imaging technologies to improve diagnosis, which would allow for targeting treatment therapy for patients with mild traumatic brain injury. The two open innovation challenges will provide as much as $20 million in research and technology development to better understand, diagnose and protect against brain injury.
https://ninesights.ninesigma.com/web/head-health/awardees
Duke Wins NCAA Men's Lacrosse National Championship
May 27, 2014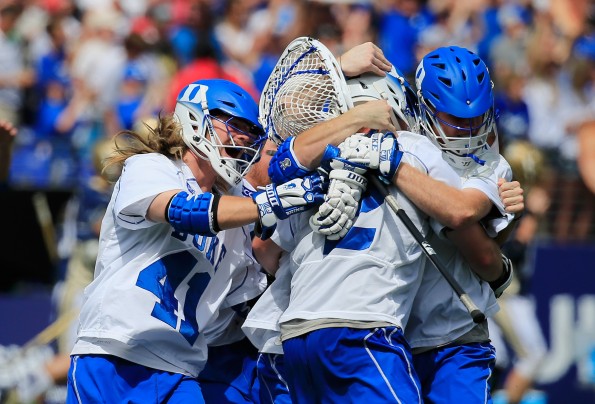 Warrior REGULATOR Helmet with Viconic EAS Liner System
BALTIMORE – Senior attackman Jordan Wolf tallied two goals and four assists and the Blue Devil defense held off a fourth quarter charge by Notre Dame en route to the program's second consecutive NCAA Men's Lacrosse National Championship with an 11-9 victory over the Irish. The national championship is the third for the Blue Devil program in the past five seasons.
Under the direction of head coach John Danowski, Duke became the first team to win back-to-back titles since Syracuse accomplished the feat in 2008 and 2009. Wolf was named the NCAA Championship Most Outstanding Player. Deemer Class, Will Haus, Myles Jones, Kyle Keenan and Henry Lobb joined him on the NCAA All-Tournament Team.
Wolf, who had a hand in each of the Blue Devils' final five goals, led all scorers in the contest with six points. Junior Kyle Keenan and sophomores Deemer Class and Myles Jones also had two goals apiece while senior Brendan Fowler went 13-of-22 at the faceoff X to help seal the win.
With Duke leading 8-2 midway through the third quarter, Notre Dame put together a 6-2 run to narrow the margin to one with five minutes on the clock. Brendan Fowler won the ensuing faceoff, but Irish goaltender Conor Kelly made the save and Notre Dame cleared for a chance to tie the game.
The Irish got a look at goal, but Duke's Luke Aaron made the stop and Jones picked up the ground ball. Looking to stop Notre Dame's momentum, Wolf found Keenan on the crease for the junior attackman's second and most important goal of the game that put Duke ahead 10-8 with 2:39 to play.
A goal by Sergio Perkovic of the Irish made it a one-goal game at 10-9 with just 49 seconds left on the clock, but Brendan Fowler won the ensuing faceoff for the Blue Devils and Wolf beat a pair of Notre Dame defenders to get the open net goal and send Duke to its second consecutive title.
Fowler won 13-of-22 faceoffs and picked up six ground balls for the Blue Devils, while Chris Hipps and Lobb recorded two caused turnovers apiece. Lobb held Notre Dame single-season scoring leader Matt Kavanagh to just two goals and one assist and only four shots on the day after he recorded seven in the semifinal against Maryland. Aaron posted nine saves in the victory and had one ground ball to finish the year 15-3. Kelly made 12 stops for the Irish.
http://www.goduke.com/ViewArticle.dbml?SPSID=25937&SPID=2027&DB_LANG=C&DB_OEM_ID=4200&ATCLID=209507758
Viconic Submits Technology Proposal in NFL Head Health Challenge
February 11, 2014
Viconic Sporting has officially submitted its technology proposal in the NFL Head Health Challenge. The NFL, Under Armour and General Electric sponsored Head Health Challenge is an open innovation challenge to award up to $10 million for new innovations and materials that can protect the brain from traumatic injury. The challenge is part of the Head Health Initiative, a collaboration to help speed diagnosis and improve treatment for mild traumatic brain injury.
Viconic submitted its proposal under the "Protection Against Injury or its Consequences" category that seeks technologies that can improve the level of protection offered against head impacts. The company's proprietary technology is now commercialized and fully integrated in the new Warrior REGULATOR Lacrosse helmet with the Viconic Energy Absorbing System (EAS).
Viconic's energy absorbing system is made from a highly recoverable thermoplastic that allows for full recover to its original shape after impact. The patented technology has shown that its absorbers provide superior head impact protection compared to foam padding and has demonstrated this for over a decade as the leading choice of impact protection in today's passenger cars and trucks.
For more information on the NFL/GE/ Under Armor Head Health challenge please visit:
http://www.ninesights.com/community/nfl-ge-grand-challenge
Improved Helmet Suspension System
October 24, 2012
Viconic Sporting senior development engineer, Ryan Brooks, attended an industry day on October 17th held by Marine Corps Systems Command (MARCORSYSCOM) Product Manager Infantry Combat Equipment (PdM-ICE). The PdM-ICE is looking for new technologies for an Improved Helmet Suspension System (IHSS). The IHSS will be leveraged to help reduce and/or prevent concussions, skull fractures, and other injuries caused by blast, blunt impact, and ballistic trauma to the head. Viconic will be responding to the PdM-ICE solicitation with its patented helmet liner technology. Blunt impact testing at independent laboratories has shown that the Viconic helmet liner performed better than standard issue pads. The Viconic liner has a 36% lower peak head acceleration when tested at 14.1 ft/sec. Please contact Ryan at [email protected] for more information on how Viconic Sporting products can protect our soldiers in action.
Evolution: Crushable to Recoverable
September 5, 2012
Viconic continues to improve on the first generation of "crushable" blast mat technology. Understanding the current market and realizing that the military has a use for a recoverable, multi-use blast mat, Viconic's engineers investigated new geometries, technologies and materials and unveiled their new mat made from a thermoplastic polyurethane. Viconic's leadership and engineering team is pleased with multiple blast simulation test results – realizing 37% more protection over the closest competitor.